Parking Options
Parking at Viking Park during Gurnee Days is very limited due to the volume of traffic and some parking areas are in use for the event (amusement rides).  It is highly recommend to park in the free public parking areas as indicated in the map below.  Other parking may be available from local businesses, and they may charge.  As this is private property, Gurnee Days Corporation has no authority over the use or fees that may be associated with these areas.
In addition, on Saturday a shuttle bus service is provided.  Please see the map below for the shuttle bus routes.
Finally, Viking Park is not far from some residential areas.  Please be respectful of peoples' personal property and please stay on public walkways if you must walk by their homes.  
Parking near Viking Park can be found at the following locations:
Village Hall, 325 O'Plaine Rd., Gurnee, IL
Warren-Newport Library, 224 O'Plaine Rd., Gurnee, IL
Warren High School, 500 O'Plaine Rd., Gurnee, IL
Welton Plaza, Old Grand Ave. (next to Dairy Queen)
Viking Park West, 940 Kilbourne Ave., Gurnee, IL
Viking Middle School, 4460 Old Grand Ave., Gurnee, IL
---
Parking Map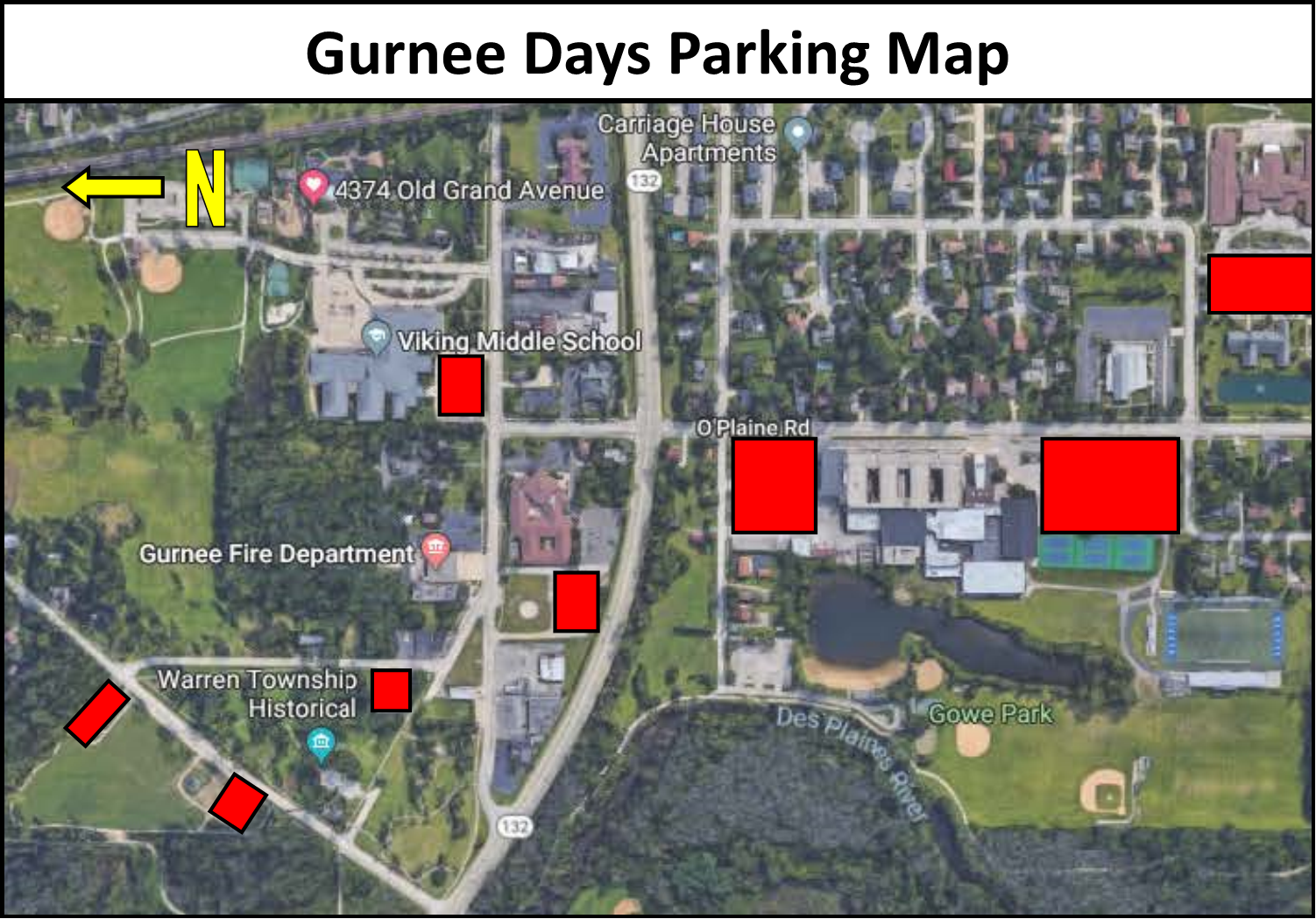 ---
Shuttle Bus Information
Shuttle bus service is available for FREE beginning at 3:00p on Saturday of Gurnee Days and runs constantly until the conclusion of fireworks (and whenever traffic to the shuttle bus pick-up spot ends).  All guests will be dropped off at the Viking Middle School and can walk to the festival from there.  Stops are made at the following locations:
Warren High School North Parking Lot
Welton Village Plaza
Viking Middle School
Please note:  School buses are used for transportation so riders must be able to go up and the stairs on their own.
Look for this sign at each location.